GoAirheads Field and Store in Erie, close to Denver, CO, offers family-friendly fun, quality products, and prompt repair services. Bring your friends, make new friends, and participate in the best Airsoft war event around. We even host zombie survival matches, like our Day of the DeadHeads Halloween game.
Prices are dependent on which event you attend as can be seen below. We also offer airsoft rentals and BB sales for anyone in your party who may not have his or her own supplies.
Browse through our pricing structure below to get an idea of our fees. For private parties click HERE or email Josh at Goairheadssales@gmail.com with any questions.
NOTE: We now accept cash, checks and credit cards
Visit our event page for questions on hours of operation.
General Prices:
Public Game Day Entrance: $35.00
GAH Barrel Bag – $8.00 (Required for Safety and Team Markings, already included with gun rental)
Team Velcro Armbands – $8.00 (Alternative option for Team Markings. Must still have an OFFICIAL Barrel Bag for safety)
($10 discount per person for groups of 10 or more. Must pay all together in 1 transaction)
($10 Military and LEO Entrance discount available with valid ID (NOT for friends/family, Discounts don't stack))
BB Sales:
High grade, ASG 0.20g Biodegradable
*3,300 rounds: $12
(Many Biodegradable weights from .20g to .48g options available in our store)
Rentals: Gun Options
$20.00 – Standard Gun Rental(Lancer Gen. 2 or similar)
$35.00 – Pro-Level Gun Rental (ICS YAK or similar)
$100.00 – Wolverine MTW HPA Gun Rental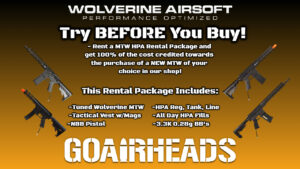 HPA Rental Includes:
-Tuned Wolverine MTW
-HPA Reg, Tank, Line
-Tactical Vest w/Mags
-All Day HPA Fills
-NBB Pistol
-3.3K, 0.28g BB's
Wolverine MTW Product Link: HERE
Other Rental Equipment:
$5.00 – Face/Eye Mask (Paintball Mask for full eye and face protection)
$15.00 – Safety/Accessory Vest rental (Tactical Vest, Extra Hi-Cap Mag for Rental gun, CO2 NBB Pistol, CO2 and flashlight for Night Games)
*50% discount to "re-rent" for Night Games
(ONLY .20g or heavier BBs may be used in our rentals. They must also be biodegradable and be polished. Barrel Bags are included with all gun rentals. All Standard and Pro-level guns are electric and do not use HPA or Gas. There are unlimited battery swaps for Standard/Pro rentals however it is RARE for any battery to die becasue we use exclusively Titan Li-Ion Batteries in our rentals)
For more details about our rentals please watch our Rentals Rules Video HERE
HPA Fills (Not Needed for Standard/Pro Rentals, included with HPA Rental):
$4 – Single Tank Fill
$12 – All Day Air Fill
FOOD:
$16 – Large One Topping Pizza (MUST order Pizza within first 2 hours of opening!
$3 – Additional Pizza Topping
$1 – $3.50 – Soda, water, gatorade, snacks (all available in our Store or Rental Shop)