GoAirheads Airsoft Field and Store in Erie Colorado, near Denver, gives children, teens, and adults an exhilarating, unforgettable experience in a unique battle zone. Play against your friends and friends to be. Even play head-to-head against an army of zombies during our I AM ZOMBIE game.
Plan strategies, compete against friends and lead your team to victory across complex acres of walls, hideouts, barn areas and great sniper positions. Only the top shots and bravest commandos master the field and triumph in our airsoft wars.
Events and parties at GoAirheads guarantee safe, exciting fun for every guest with top-notch weaponry, full-scale battle environments, and reliable referees. Our referees are king, and they keep all our warriors engaged in safe, mediated battles and maintain a fair, regulated game for all.
Organize a private party, compete in our regular events, tournaments, and camps or fight zombies across the field. Practice your airsoft game with ammunition and accessories from our shop, and we'll help you keep all your artillery in full working order.
Set up your next event at our airsoft fields or visit our shop for batteries, chargers, BBs and more. We'll see you there!
Gun of the Month!
We at GoAirheads will start announcing CRAZY sales on one gun per month! They will be announced right here and can only be redeemed in our store. This is our way of giving players with a modest budget a way to get some Pro-Level guns for their buck.
March's Gun of the Month will be: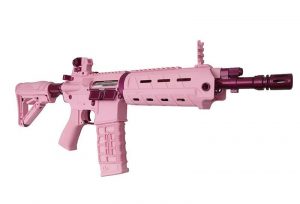 G&G Femme Fatale G26
Through the month of March we will be selling all of our G&G FF26's for 30% off of original retail value.  First come, first served basis only. Limited quantities!
Electric Blow Back
Unique Pink/Purple Color
"Magpul" looking furniture
Due to the extremely low price there will be no GoAirheads warranty on this gun. Any warranties MUST go through the manufacture.
~ 365 FPS              WAS: 140    NOW: $98                                                                                                                     Please call Josh at 303-525-2392 for any questions or details on these guns!